A Human Chain Against Chainsaw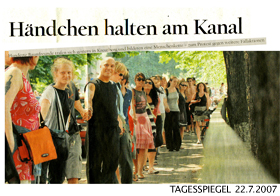 Save the 220 trees by the Landwehr Canal! A single healthy tree produces enough oxygen for 50 people. 37 trees have already been cut down. A further 22 were felled on Thursday 5 July 2007 while our initiative "Trees Along The Landwehr Canal" was in negotiations with the navigation authorities about preserving this vital part of our environment.
Let's make a stand together!
Against clinical bureaucracy!
To save our trees!
Join our human chain!
Let's show what we can do!
In response to this call, 2000 people turned out on 21 July 2007, to pay their respects to the trees.